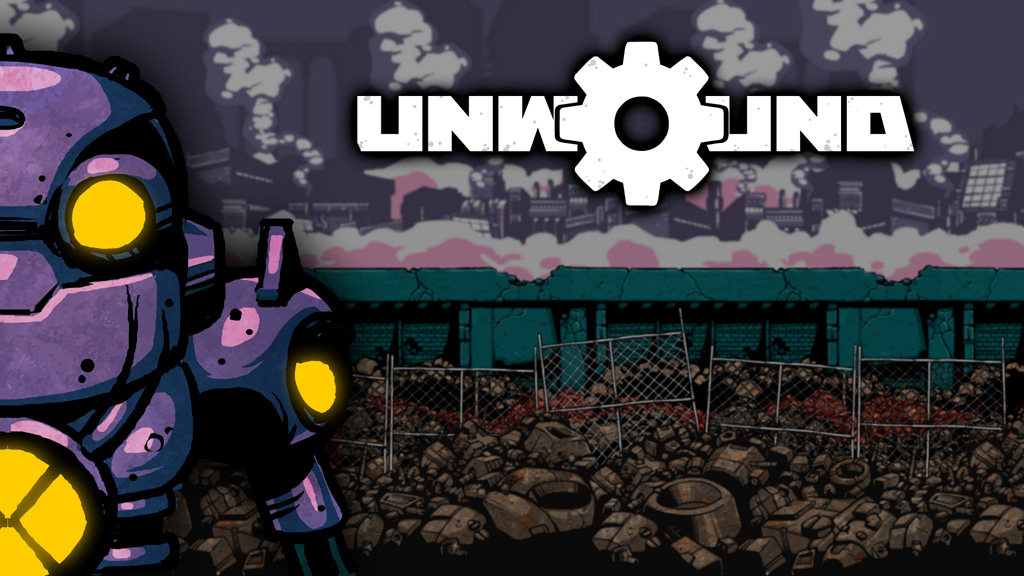 Unwound
Unwound is a narrative driven 2D platformer with a blend of puzzles and exploration. Dumb AI has taken over, it's up to you to fight back. Bend time and challenge the AI to save yourself as you explore this strange robot world. As Kairos you bend and control time while recording your actions to solve puzzles and overcome robot enemies.
Each area is filled with puzzles, obstacles and enemies and more! Time Trace puzzles include recording Kairos & working with the time clones to open new areas or defeat enemies. Time Winding puzzles involve speeding or slowing world elements to manipulate their behaviour.
As you explore more and more of this decaying world you will wonder are your actions helping or like everything else in this world are you just following your programming.
Background
Unwound was in concept stage at some point or another for a few years, the first real movement on it was in 2014 when we developed up concept images for the game, but it wasn't until late 2015 that we started development of the prototype.
We went through a few iterations of the game both visually and through game mechanics; mainly because of the time travel breakiing gameplay puzzles
Our last demo had a nice Metroid style exploration system, some time control systems working, all major platforming mechanics working and a nice level design system.
My role
I had a few roles in this project, mainly taking care of the game design which I found to be tricky enough as time travel can be confusing! I also did a fair bit of level design with the help of the rest of the team, and I helped with the project management too. As well as these I also spent time getting finance to fund the development of the game. 
 

Credits

           
 
Art
                                     
Programming
Senior Artist
 
Michael Semple
Thomas Mc Closkey
 
 
Additional Concept and UI Art
 
Game Design
Niall Doherty
 
Jim Murray
Courtney Sproule
 
 
Tom Stockman
 
 Level Design
Rebecca Monaghan
 
Michael Semple
 
 
Jim Murray
Project Management
 
Emma Robinson
Emma Robinson
 
Thomas Mc Closkey
Jim Murray
 
 
 
 
Music
Additional Development
 
Christopher Norby
Darragh Lydon
 
 
Thomas Ferris
 
 
James Bradley