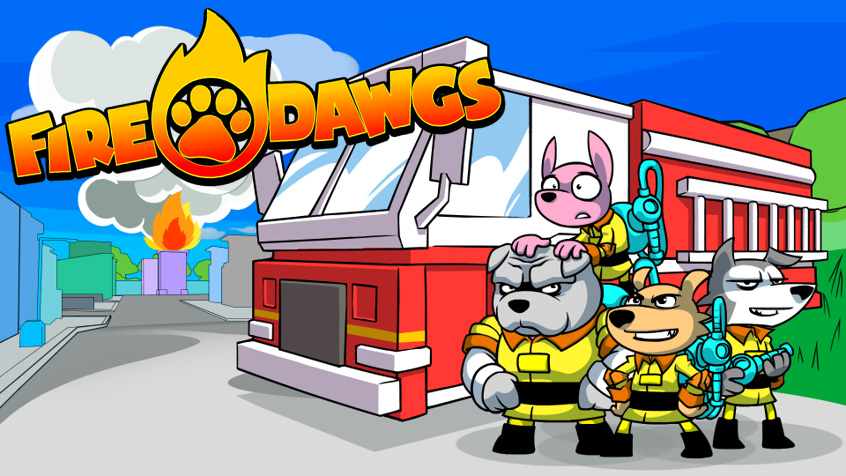 Firedawgs
Fires have sprouted up all over town, it's up to you to put them out in this arcade style firetruck-em-up! Play as a squad of dogs who fight fires, filling in for the firemen who caught fleas! Drive through various open worlds fighting fire, saving townsfolk and building the best FireDawg Squad around!
Featuring local co-op, campaign modes, battle modes and more!
Background
Firedawgs started out as a co-op on rails shooter called DogGunnit, then went to open world driving game with your dog pal, then eventually firetrucks run by dogs became the next logical conclusion. Our last version has fully working local co-op and solo modes and you can try it out on Gamejolt here:
You'll also find more updates and art that the team did throughout development too
My role
This project my main repsonsibilites were on Level Design as well as some help with Additional Art mainly some UVW unwrapping and tweaking some level art at times.
| | | |
| --- | --- | --- |
|   | Credits            |   |
| Art |                                       | Programming |
| Senior Artist |   | Michael Semple |
| Thomas Mc Closkey |   |   |
| Art Team |   | Game Design |
| Courtney Sproule |   | Thomas Mc Closkey |
| Michael McDonald |   | Michael Semple |
| Niall Doherty |   |   |
| Additional Art |   | Level Design |
| Emma Robinson |   | Thomas Mc Closkey |
| Michael Semple |   | Jim Murray |
| Jim Murray |   | Michael Semple |
|   |   | Emma Robinson |
| Project Management |   |   |
| Emma Robinson |   | Music |
|   |   | Christopher Norby |
| Sound Effects |   | Alan Monaghan |
| Alan Monaghan |   |   |
| Emma Robinson |   |   |
|   |   |   |